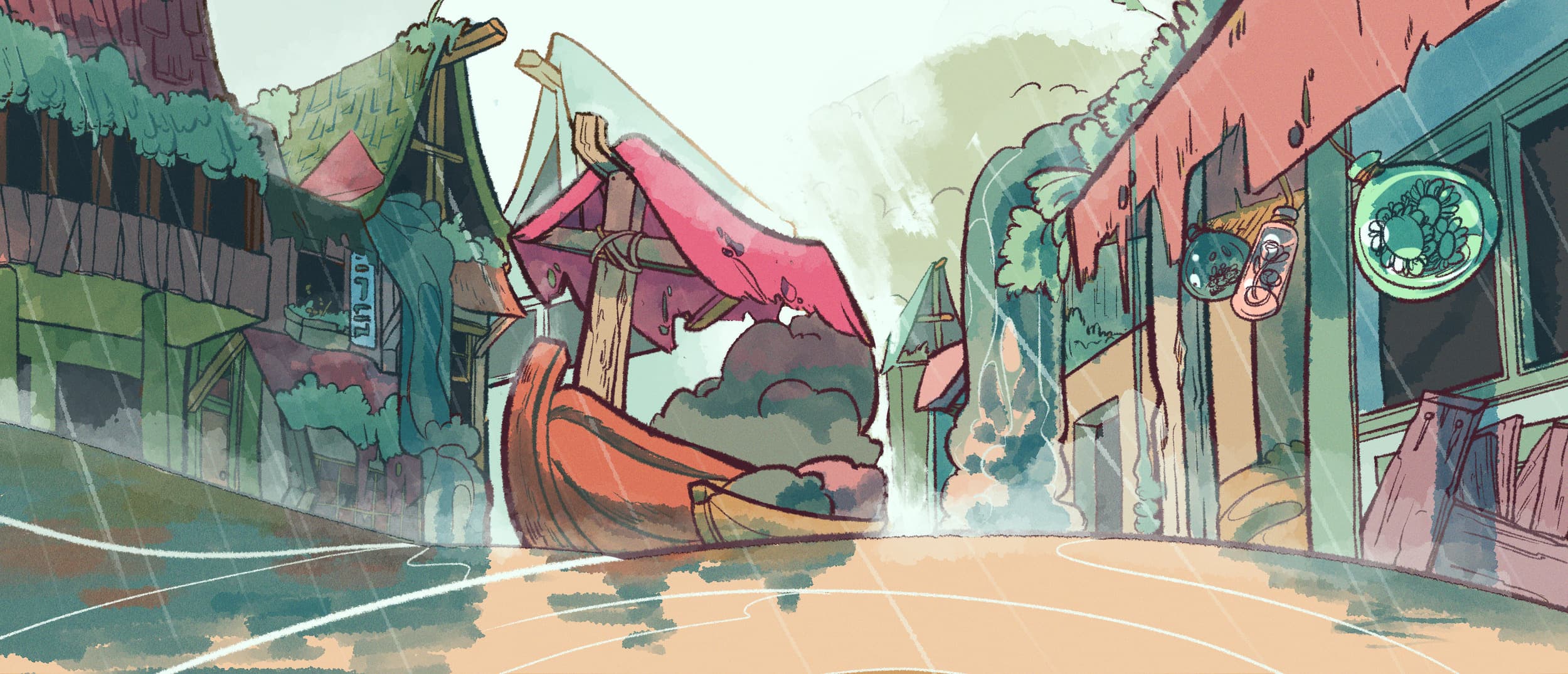 Ancora Bay
, The Sinking Tropical Seaport
Hello all, and welcome to our third borough: the bustling seaport Ancora Bay! After apocalyptic floods rendered much of the world uninhabitable, those who survived flocked to what few bastions remained. Ancora Bay is the cosmopolitan paragon of the new world, home to cunning pirates, aggressive occupiers, and greedy kleptocrats. Magic, intrigue, and pulp thrills await adventurers who set sail for Ancora Bay.
Ancora Bay is a tropical city, perfect for pirate adventures and quests into the jungle or seas beyond. This is one of our largest cities, with an 88 page document filled with complex lore about magical cataclysms, orcish rulers, and a slew of competing factions that control the city. If you want to dive deep into the story we've created, there are plenty of avenues you might follow for crafting complex narratives. Alternatively, you can just think of this as casual inspiration before copying and pasting the city into your existing campaign settings. Regardless, if you're running an island hopping campaign, you're going to want to run a meaty arc in Ancora Bay.
While in the city, here a few things your players might do:
Solve the mystery of the disappearning indigenous halflings
Infiltrate a dense military fortress
Explore the newly infested underground of the wealthy quarter
Sabotage the orcish supersoldiers who tyrannize the citizens.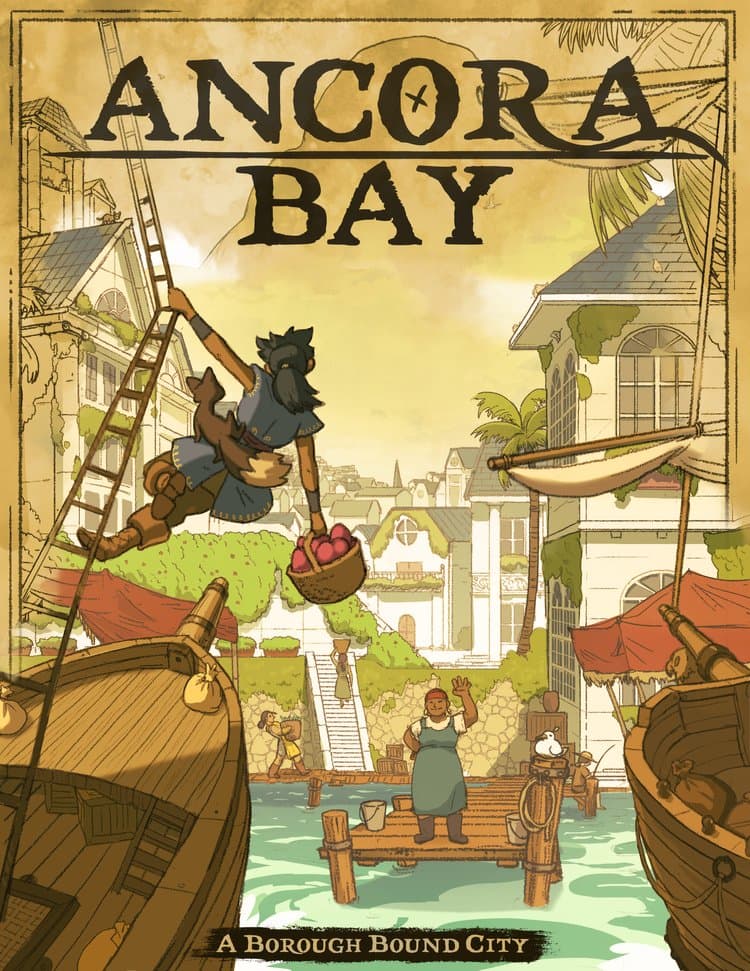 Maps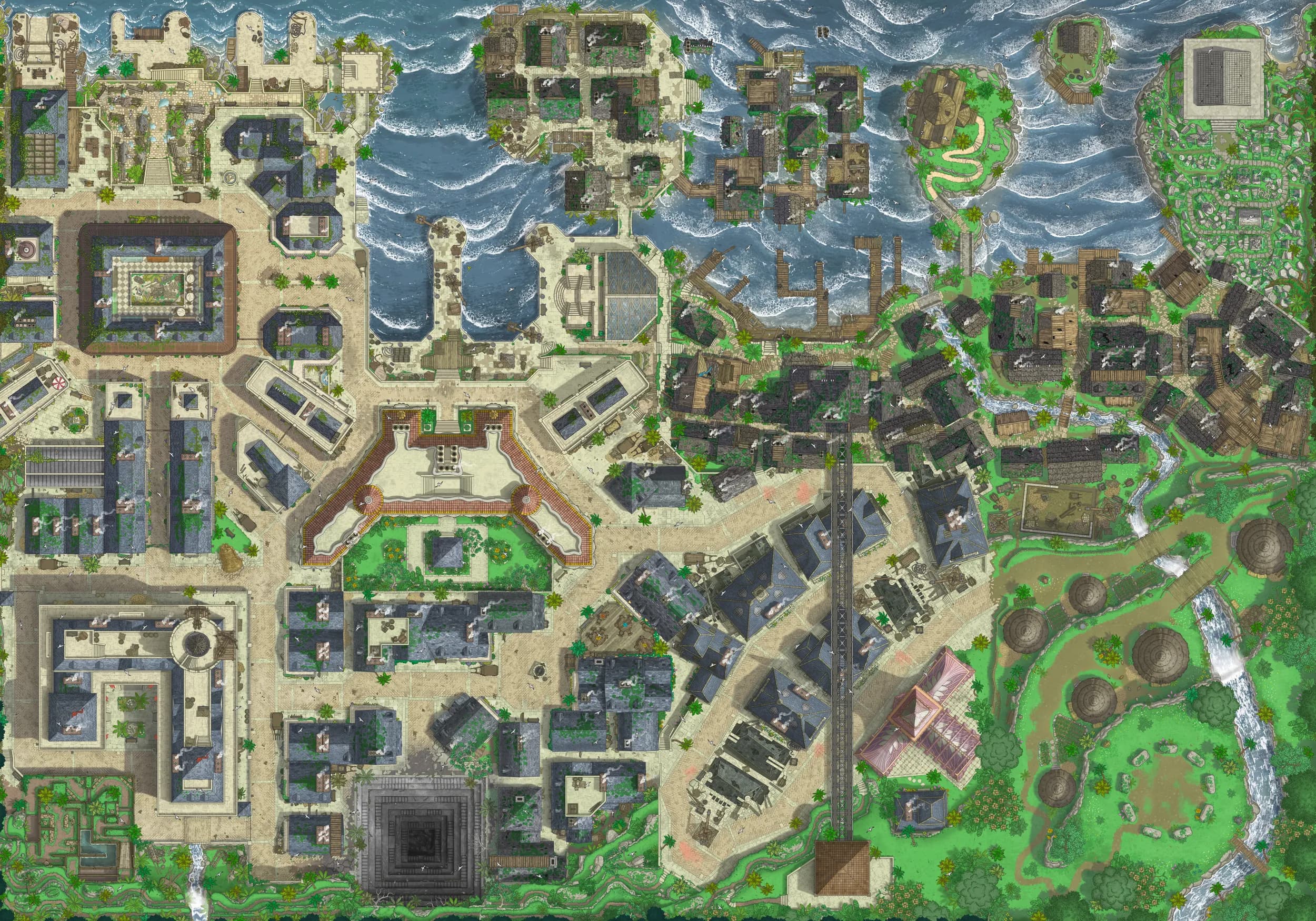 Ancora Bay is a massive city, consisting of 8 smaller maps stitched together. We really wanted to give the impression that this is a real, dense, busy city nestled into the coast of thickly forest tropical island.
As you zoom into this city, you'll see incredible detail: there's a huge multi-story shopping mall, a military port, a section of slums sinking into the waves, and a quickly filling haunted cemetery. In the southwest, the orcs rule the city from their perfectly defensible citadel, placed right next to the deep stepwell in which religious fanatics pray to a dark god. A funicular connects the low city to the beautiful pink quarter, where wealthy spice traders build ever higher into the hillside. Finally, there's the last remaining vestiges of the halfling community that once thrived on this hilltop. Will their small community survive the encoraching capitalists?
Patrons at the General Messenger tier and up also get variant maps: a flooded version of the coast, a carnival in the upper city, and a destroyed halfling village.
Music
Ancora Bay is Borough Bound's first full album, with 13 tracks to help bring the tropical metropolis to life. There are chill island vibes, cozy jungle moods, and pirate combat bangers. Bring your bars and taverns to life with "Splintered Hollow" and "The Renforth," skulk through the city's dungeons with "Forfeited Citadel" and "Mosshome," and then duke it while blasting "Pyroclast Blitz" and "Operation Preemptive Scupper." Steel drums, ukulele, accordion, and pipes give this album that authentic tropical feel that'ssurprisingly hard to find in the RPG music scene.
This album is available for purchase on Bandcamp or streaming on your platform of choice. Of course, if you want the full Ancora Bay experience, you're going to want the oodles of bonus tracks available at our Patreon: a funeral dirge, groovy steel drum meditations, more combat tunes, and ambient mixes for more focused play.
Pyroclast Blitz
Ancora Bay
In Loving Memory of Juliet Spencer
Ancora Bay
Splintered Hollow
Ancora Bay
Profligate Cemetery
Ancora Bay
Operation Preemptive Scupper
Ancora Bay
Forfeited Citadel
Ancora Bay
With Garners Full of Grain (Island)
Ancora Bay
Shipwrecked on the Skeleton Key (Calm)
Ancora Bay
Efrinol Noi Alo
Ancora Bay