Meddenfirth
, The City on a Bridge
This densely populated city is built onto every square inch of a bridge that connects two warring nations. Though the city remains independent, the scars of war touch every aspect of Meddenfirth life. While you're in town, meet the canine kennelborn, join one of the livery companies, or maybe make friends with one of the local gangs! Weapons are strictly prohibited... but I'm sure your party of adventurers will find a way around that. Go fishing, punch a frog, and keep your head on a constant swivel.
Meddenfirth was Borough Bound's first release. We wanted to make sure we nailed our RPG design philosophy right off the bat. This city is bright and colorful, but there are strange mysteries and secrets behind every corner. As a GM, you can feel free to run the city as a glorified quest dispensary, or you can weave a complex narrative about competing gangs, all-powerful companies that run the city, or the war between the neighboring nations.
The central narrative that links Meddenfirth is the trials and tribulations of a city that is truly independent. What happens if you're not allowed in either of the neighboring nations? What happens when the armies pollute the river you call home? How do you deal with an armed conflicts on your borders? For the adventuring party, Meddenfirth is likely to be a perfect reprieve from the stresses of the campaign, a place where they can fish, shop, and maybe recycle some of their unwanted gear (with specific recycling mechanics listed in the document!).
While in Meddenfirth, your players might:
Confront the awful "frog block" where the river swells up with bloated amphibians
Protect the city from a surge of toxic waste
Aid or sabotage peace talks
Pull off a daring heist in the city's armory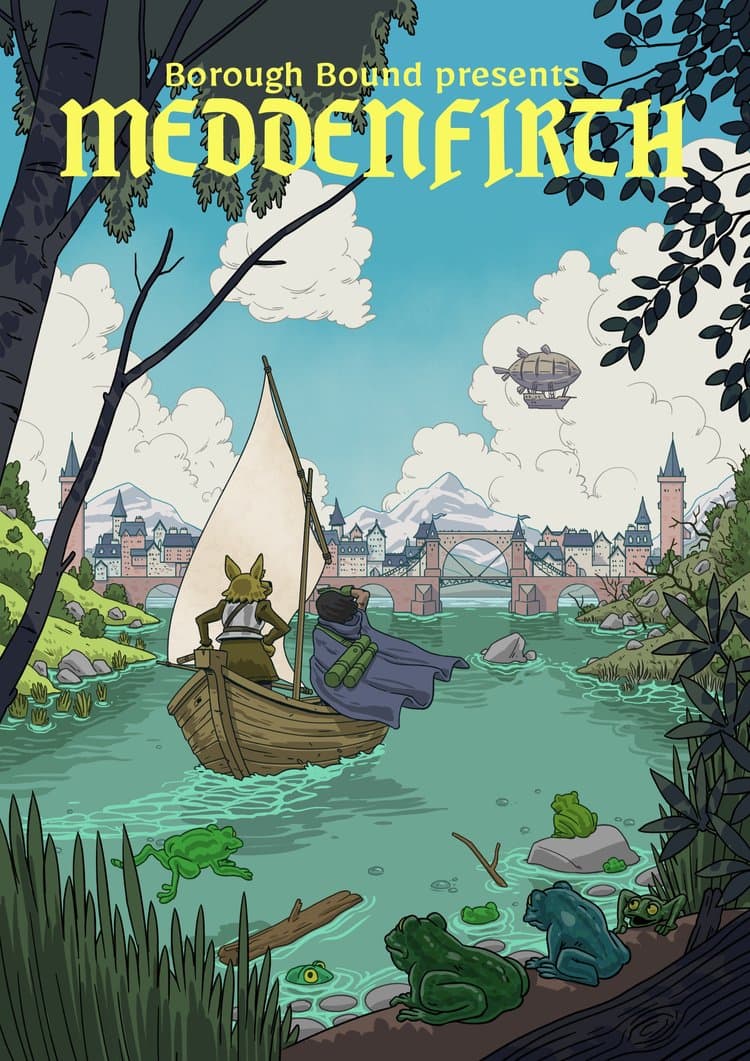 Maps
Meddenfirth is a dense city, with winding streets, busy rooftops, and plenty of nooks and crannies to explore. Whether your party of adventurers is just stopping by on a shopping / fact-finding visit, or they're in town to duke it out with some villainous gangs in hiding, these maps will allow your players to see every square inch of the town in high-res detail. We're providing day and night, gridded and ungridded variants for all of our patrons, and General Messengers and above will also receive a map of the city after the river gets clogged and city beset by frogs. Things are bound to get messy!
The maps for the second section of the city show off the massive Un-Forge, a complicated machine that occupies a large part of the bridge. You'll also see Astor and Mugomak's hot air balloon, as well as some of the fanciest homes in Meddenfirth.
The third section of the map is dominated by No Man's Bazaar, a colorful marketplace that shifts around whenever the bridge has to lift. Additionally, there's the rooftop café known as Izetta's Beanery. Your players are going to love infiltrating this towering inn / eatery to get access to the peace talks. We've included versions of this map with the drawbridge raised and lowered.
The eastern most section of the bridge is home to Skyquarters, the needlessly ostentatious administrative headquarters of the city. You'll also find the Loft (home to legendary carrier pigeons and a postal witch), and the the glorious East Gate, in incredible high detail. In the associated borough guide, you'll also find a blueprint of the armory, perfect for quests that explore the loot-filled mini dungeon.
Music
Our first EP for Meddenfirth consists of just two tracks: "City on a Bridge" is a jaunty score that perfectly sets the scene for the hustle and bustle of this cheery town. Distant horns evoke passing ships, while accordions and various plucked strings tell a tale of neighboring cultures meeting in this independent melting pot. "The Tarhands" is your classic seedy urban crime banger. As soon as your players hear this, they'll know "ohhhh, okay, we're dealing with some 'unsavory' folks." For nighttime antics, throw on "The Tarhands (Bells and Bass)" for a calmer, sneakier vibe.
City on a Bridge
Meddenfirth