Yllmourne
, The Boom Town Port
The only thing more profitable than the start of a war is the end of one, and newfound peace means the independent port town of Yllmourne is poised to become a massive trade haven. Already, speculators and enterprising merchants have transformed the sleepy harbor into a boom town. As money flows into Yllmourne, so too does crime, disease, political machinations, and dark magical secrets. Can the free city survive this radical transition?
Yllmourne is a dreary port town filled to the brim with bad actors. Pirate lords, foreign dignitaries, sea monsters, witches, gladiators, and regular ol' drunks threaten the city on a daily basis. As your players attempt to thrive in the free city, they'll have to determine just how far they are willing to bend their morality.
We encourage you to take your Yllmourne adventures and reshape them to fit your needs. We provide three varieties of optional plot points so that you can bend the narrative in different directions. Is your Yllmourne story one of pirate shenanigans? Or is it a complex web of political intrigue? Or maybe eldritch horror linger just out of frame…
While in Yllmourne, the adventurers are like to:
Earn sacks of gold via legally dubious means
Redress the murder of a beloved healer
Investigate unexplained shipwrecks
Infiltrate the crime den on Hilbre Island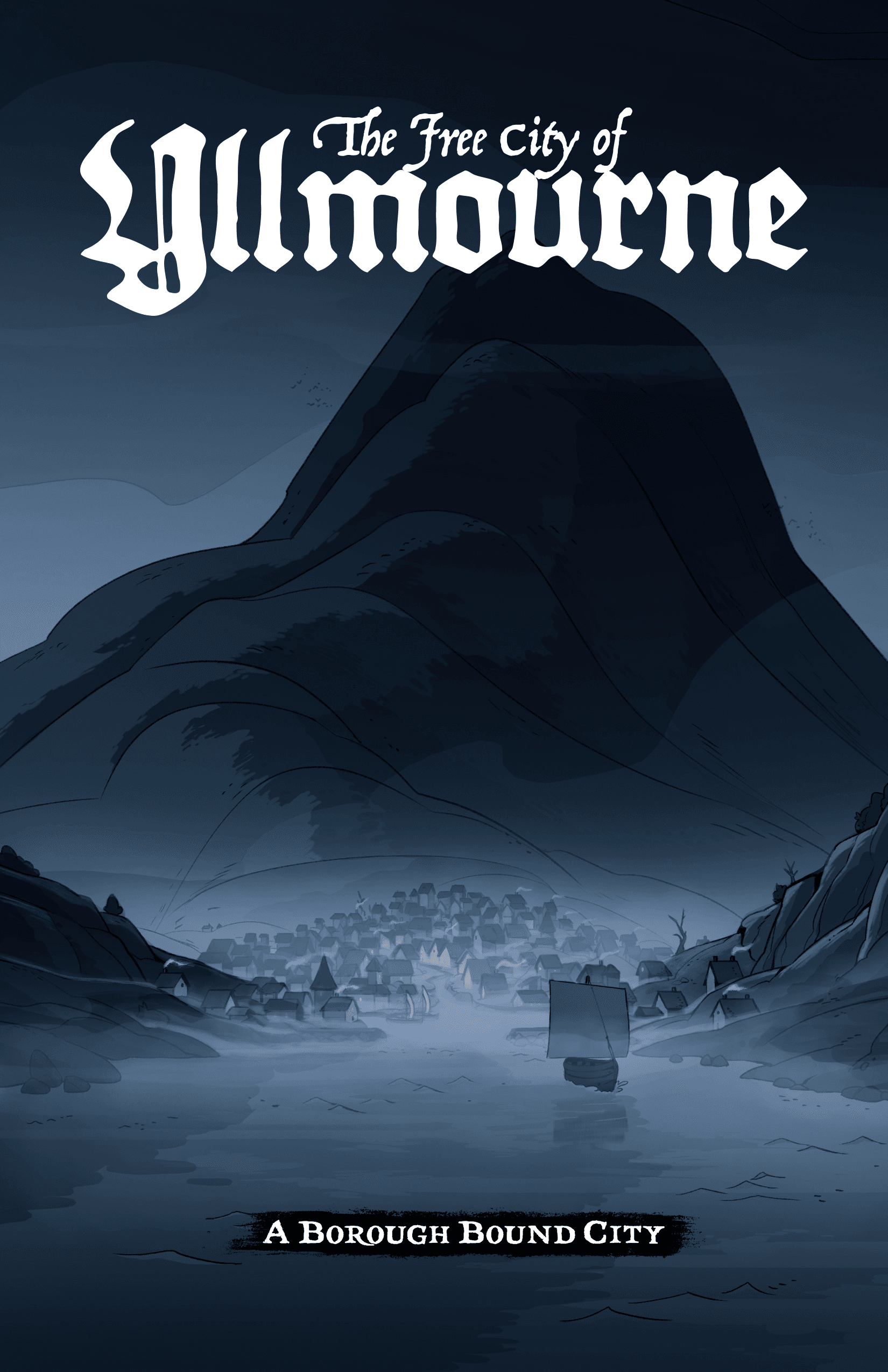 Maps
Our primary Yllmourne map encompasses the entirety of the harbor and the city surrounding it. The winding city streets hide secrets around every corner: corpses, hideaways, ancient treasures, and more. What may look like familiar, dilapidated, half-timbered homes may be much more than they appear. Why are autopsies conducted in city hall? Why do battered thugs keep exiting the fishery? Who are all those dissidents that keep making their way into the library?
We offer a few transformative variant maps for Yllmourne. If your players have their own vessels or if your just prefer to use tokens, use our No Ships variant. If you want the dark town to be more unambiguously evil, whip out the Shadowfell variant. If you want to explore the floor of the harbor, try the Low Tide variant. Finally, if you just wish the town were a bit more pleasant, you've got access to the Summer variant.
Accompanying our main map, we also have an additional map for Hilbre Isle, a criminal haven just off the shore of Yllmourne. This is one of our largest and most complex maps, featuring a multi-level interior, and plenty of outdoor space for epic battles.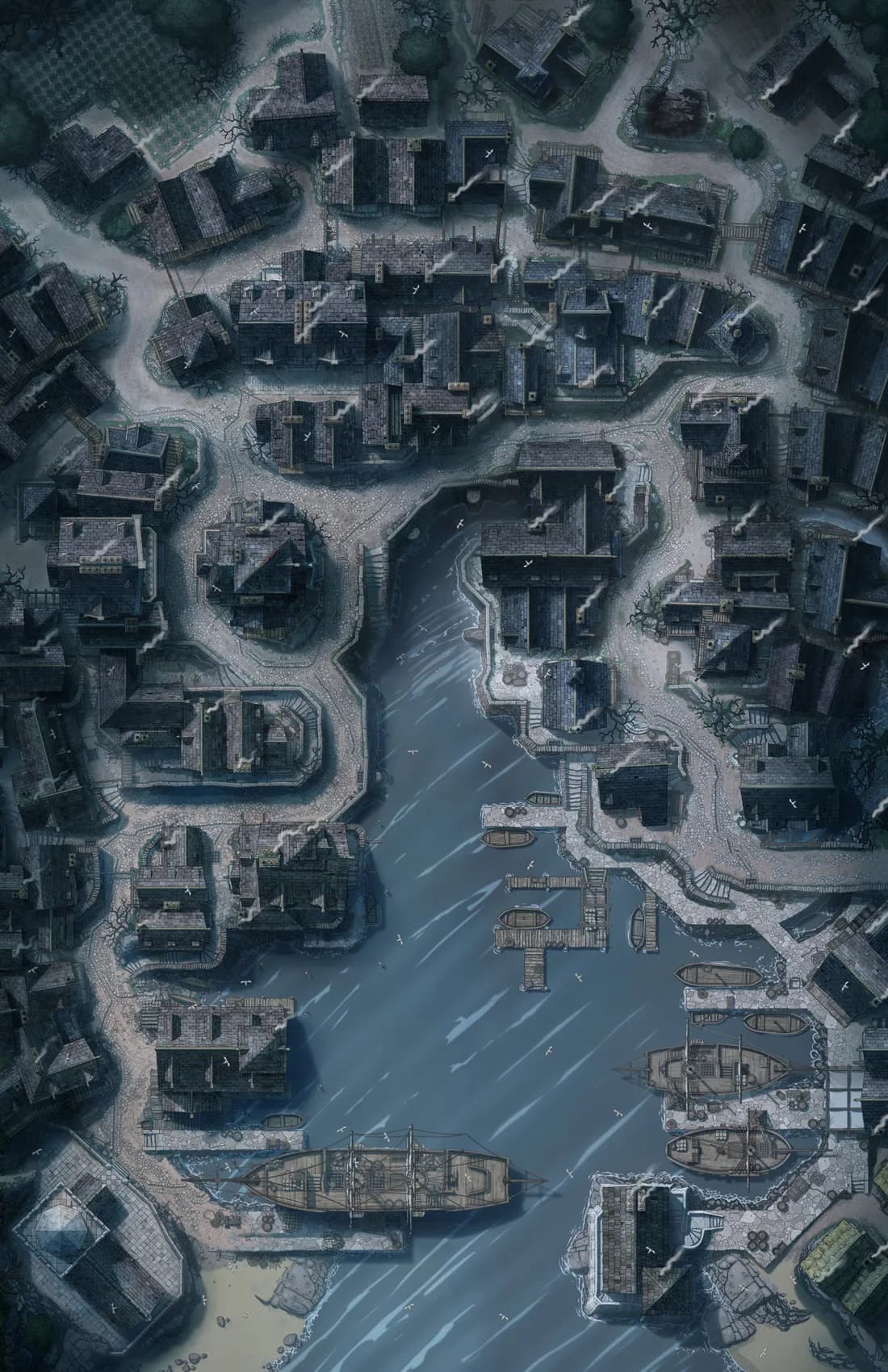 Music
The music of Yllmourne is seedy, crunchy, and confrontational. Hammered strings, sloppy accordions, and distant horns give the impression of a rainy town gripped with crime. Your players will have no doubts about what sort of NPCs they're like to encounter in a town like this. Our Yllmourne EP is available wherever you stream music, but you can also grab variants of each of the tracks at our Patreon.
Forbidden Cartography
Yllmourne