Zahuatil Ruins
, The False Jungle Temple
It's the archaeological find of the century, a massive temple complex in the middle of the rainforest, seemingly untouched for hundreds of years. Adventurers, scholars, and entrepreneurs are flocking to these newly discovered ruins, hoping to find glory, publish research, and earn some gold on the way. There's just one problem: the ruins are fake, and every one at the base camp is about to die.
Zahuatil Ruins is a Mesoamerican-inspired setting, part dungeon crawl, part elaborate prank, 100% anticolonial parable. Your players will have the opportunity to explore this "adventurer's paradise," finding seemingly priceless loot and winning easy victories. Then, you pull the rug out from under them, and the false ruin reveals itself for the death trap it always was. Twin legions of kobolds and mimics will attack the party, and the dungeon will reform itself around the flabbergasted adventurers.
This setting is the perfect twist on stereotypical colonialist dungeoneering tropes. Once the tables turn, will your players stick their necks out to defend the indigenous kobolds? Or will they fight alongside the plunderers and slavers that have made camp in the ruins? Will they slay the dragon that took them for fools? Or will they run far away from the death trap without a second thought?
Along the way, your players will certainly:
Take part in a troublingly easy dungeon crawl
Investigate the oddities of the shapeshifting dungeon
Attempt to survive the death trap
Confront the architects of their doom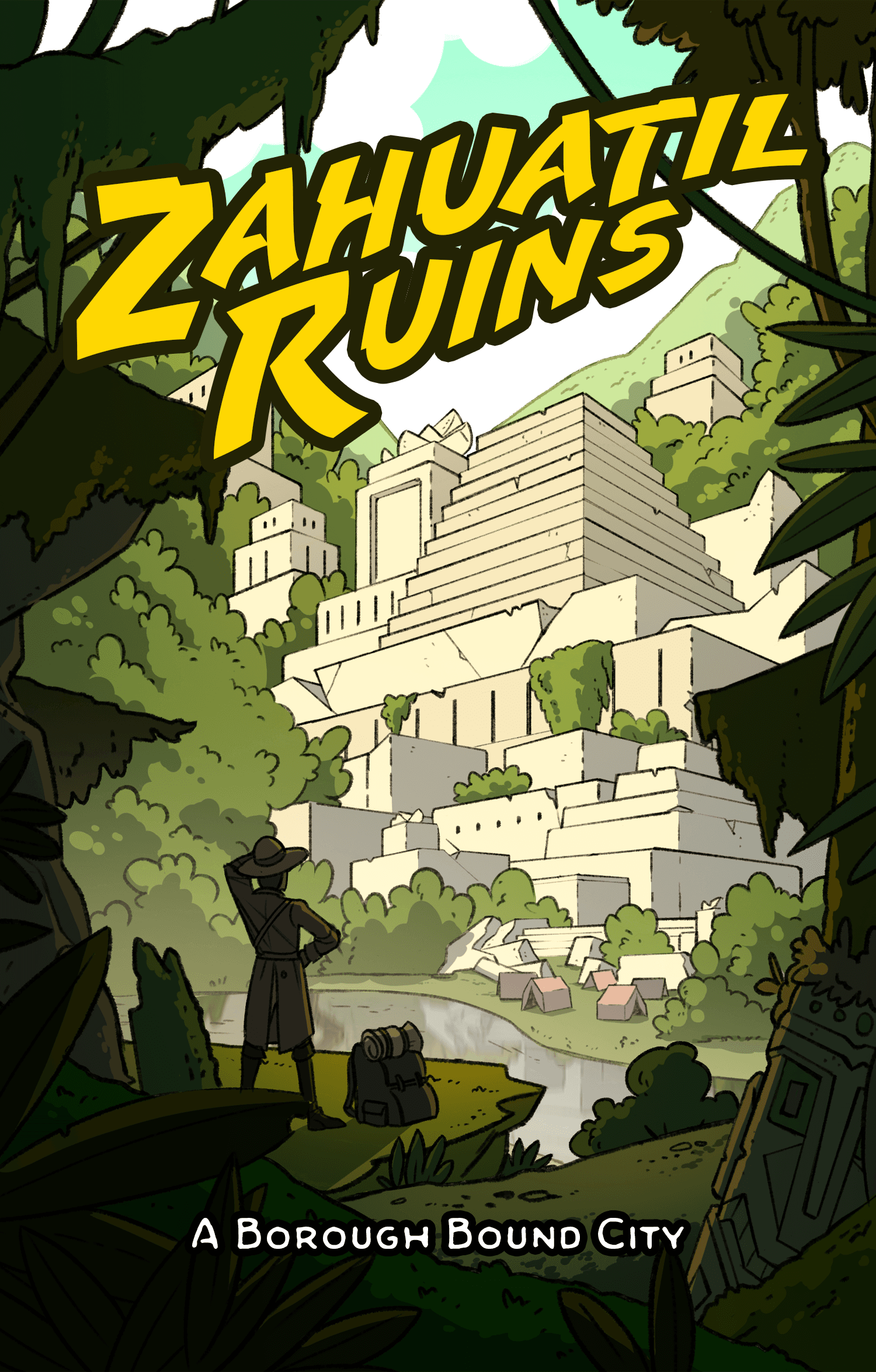 Maps
Zahuatil Ruins is a sprawling jungle complex, and every corner is laden with traps. In the northwest, travelers make camp, preparing for fruitful ventures into the ruins. Further east, a sprawling maze and winding pit traps threaten oblivious adventurers. Up in the jungle canopy, a famous voyager's sea vessel threatens to fall from the treetops. How did that get there anyway?
Along the southern edge of the ruins, a colossal tree trunk provides opportunities for clever adventurers to hide—is this fake as well? Finally, the primary ziggurat rises imperiously over the surrounding ruins.
Recontextualize this adventure by introducing variant maps. Slot the temple into other environments with our Shadowfell and desert variants, or present a possible future for the indigenous kobolds with our Zahuatil Reclaimed map.
Our interior maps for Zahuatil Ruins include the tent of villain Triqe van Leery, multiple floors of the ship in the trees, and the central ziggurat. We also provide a slew of modular temple interior assets so that you can craft your own unique dungeon crawls.
Music
Our Zahuatil Ruins EP is filled with all of the jungle jams you'd expect. We have spelunking music, groovy exploration tunes, and two badass rainforest combat tracks. This EP also features a solo from Dutch panflutist Hance Marchal. If you want even more sonic variety, variant tracks on our Patreon present a dramatic range of jungle vibes.
Chorago Rainforest
Zahuatil Ruins
Xipati Huato
Zahuatil Ruins
Takkobo Mig
Zahuatil Ruins
Triqe's Secret
Zahuatil Ruins
Evening in the Ruins
Zahuatil Ruins
Organic Stone
Zahuatil Ruins